When Full Service or Hybrid Moving is out of budget it's Do-It-Yourself
According to the numbers it's probably part of your future! According to the U.S Census Bureau about 11% of the total population moves every year. In West coast destination cities like San Francisco and Seattle those numbers go up significantly. Here in Portland and in the state of Oregon over 18% of us moved in 2015! Average residency lengths are around 5 years trending downward in areas like ours with a residency of 2 1/2 years. Current estimates for moves and relocations are down from their peak in 2015 but 2017 had 120-140 people a day moving to Portland from out of town or state and 60,000 total new arrivals to the state of Oregon.
Do-It-Yourself Moving – Prep and Packing Tips
As a professional mover that enjoys working in this industry, showing up to help a client along their way and completing a successful move is a good feeling and has many satisfying benefits (granted it's not for everyone).  As a "civilian" having to move myself is just as dreadful for me as it is for everyone else!  We'll show you some examples to prep like a pro and take some of the stress and dings out of your next move. As we've discussed in previous posts in the blog that having a plan and a schedule are essential for efficiency and overall success.  
Your non-essential items and fragiles have been carefully wrapped and boxed at this stage. The boxes have been labeled and the fragiles are well indicated with "FRAGILE" or "TLO" (top load only). There are some helpful videos on packing dishes and fragile items on our YouTube playlist "Moving Tips – How to Pack Dishes/Fragile items"
Blanket & Shrink Wrap Your Furniture
If it's worth moving it's worth protecting. Blanket or pad wrapping furniture and appliances is an absolute must if you want your items to arrive at their destination in the same condition they're leaving in. It will not only protect your items but it will minimize scuffs dings or dents to walls, doors, banisters, etc at the locations you're moving out of and in to. It also allows the items to ride in the truck or shipping container safely and facilitates to maximize the usable cargo space for stacking and packing the load tight. Another major advantage for DIY'ers is that you can move fine furniture with a moving Dollie when it's wrapped. You may not have the luxury of a "crew of friends" so doing as much as you can with the Dollie and its wheels is powerful and efficient. The pad/blankets and shrink wrap protects the wood from the sharp surfaces and allows for one person to do move even large objects and with care, navigate stairs and stairways.
We've included some pics from our moves to give you a basic understanding of what it takes to pad/blanket/shrink wrap a piece of furniture.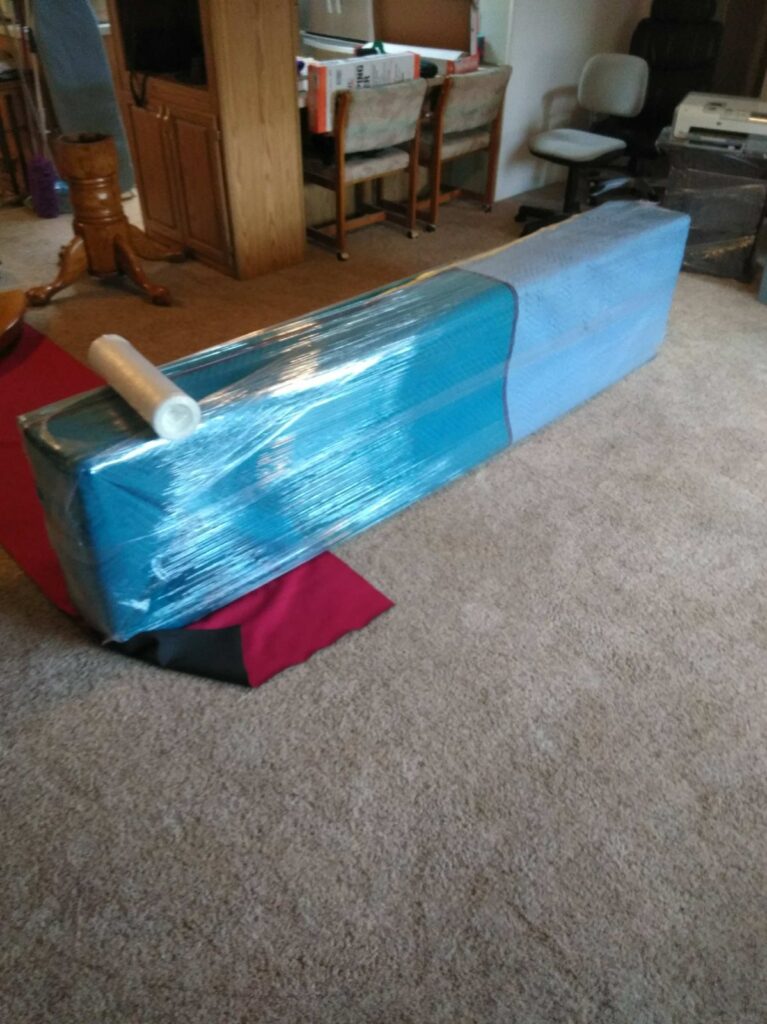 Helpful videos on our YouTube playlist showing professionals do it – "Moving Tips – How to Blanket Wrap Furniture for DIY'ers"
You can obtain all the items you'll need for this process at your local home center and at the familiar moving truck rental location.  Items you'll need to do the prep work are: Moving Blankets or Moving Pads, Packing Tape, and Shrink Wrap.  From experience and in the interest of saving time we suggest getting more supplies than you think you'll need and returning un-used items later. 
Helpful tips and friendly answers to questions are always free! OregonTrailMoving.com 503-922-2225
Moving discount coupons on the blog page: Uhaul, Penske, Budget, Enterprise, PODS, Pack-Rat, ABF U-Pack.