ABF Movers and U-Pack Help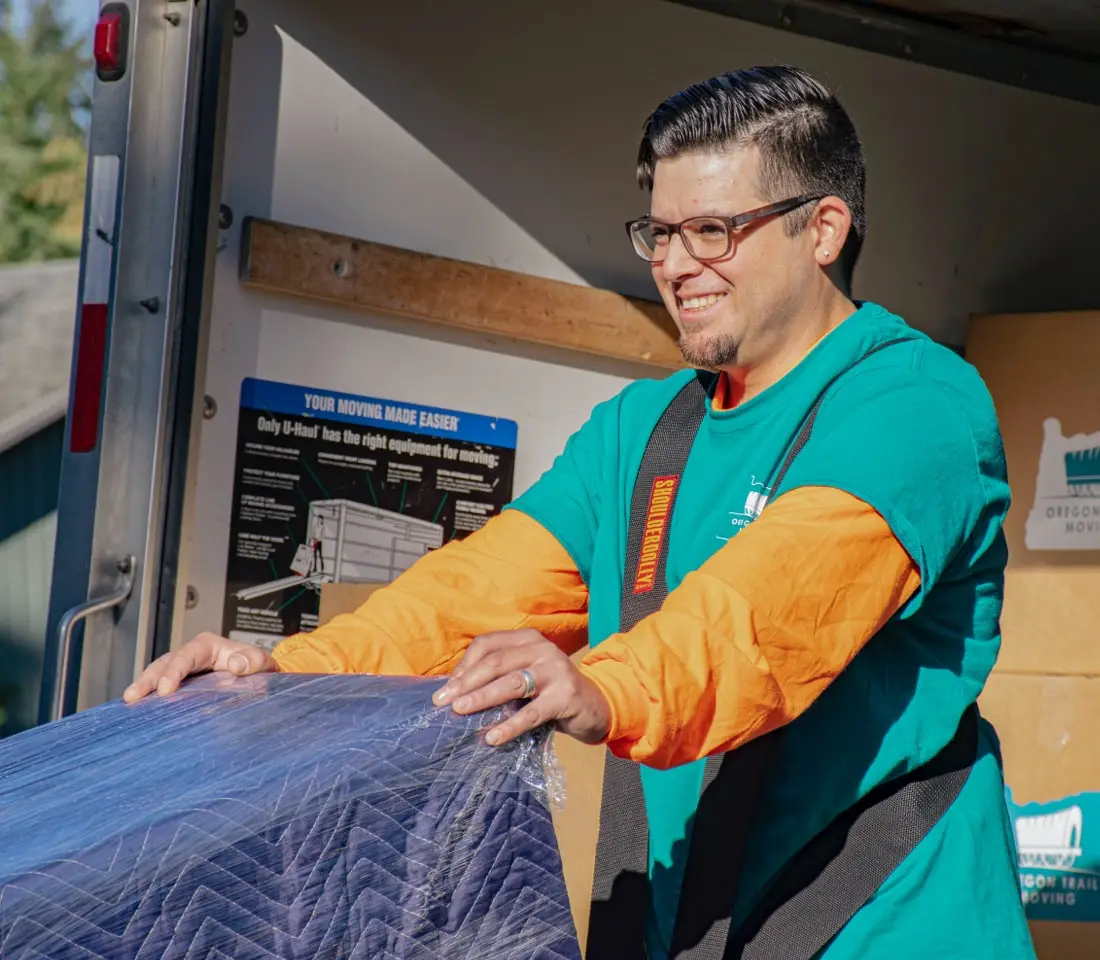 ABF Freight and U-Pack to Move, Oregon Trail to Pack, Load, or Unload
If you're planning your move using ABF Movers and their U-Pack service, you're making a great choice. ABF is a solid company that's been around for years with many satisfied loyal customers, and their U-Pack subsidiary allows you to be in control of packing and loading while a professional drives the big rig to your new home. With Oregon Trail Moving, we can help you pack and load your ABF trailer to make your move as smooth as possible. By using our budget-friendly, labor-only moving service, you'll free up your time and energy to focus on the details. We'll make the packing, loading and unloading of your boxes, furniture, and heavy items the easiest part of your move.
U-Pack Doesn't Mean Only You
U-Pack advertises "you pack, we drive." But just because you're moving with U-Pack through ABF Freight, it doesn't mean that you're on your own with packing and loading the trailer. Oregon Trail Moving is available seven days a week to lighten your moving load and get you on the road faster, easier, and with less stress. You get to choose your services, whether it's packing a lot or a little, loading your trailer or truck, or unloading it. You're in charge, and you get the ultimate in flexibility when you choose 5-star service from Oregon Trail Movers. We serve the areas in and around Portland, Hillsboro, Vancouver, and Oregon City.
Before you request a quote, check out our reviews and see what other customers in our Pacific Northwest area have to say about what it's like to work with Oregon Trail Moving.
Great experience — fast, efficient, and careful. Caleb, Payton, and Scott were great. About to book with Oregon Trail again.
— brian - google - 01/22
Kaden and Alex were excellent. They both worked so hard, and kept a good attitude throughout the whole move. It was like having a team of 4 people for the price of 2. I recommend them wholeheartedly!
— alena - moving labor - 3/21
How Oregon Trail Moving Works with U-Pack and ABF Movers
When it comes to moving, you need both labor and transportation. U-Pack works with ABF Freight to provide the transportation part of that equation, and Oregon Trail provides the labor. Essentially, we help take the "U" out of U-Pack as much as you want. Our crew can pack boxes and load them, as well as wrap and load your largest, heaviest, and most sensitive items onto your trailer, truck, or storage container. By taking advantage of the quality and value provided by both companies, Oregon Trail helps make your U-Pack and ABF hybrid move as much of a breeze as moving can be.
Now let's go over what hybrid moving is, and clear up the relationship between ABF and U-Pack.
Hybrid moving is a moving option that combines the benefits of DIY moving with the convenience of professional moving services. Hybrid moving typically involves customers doing some of the work themselves and hiring professional movers for the rest of it. A hybrid move may have customers hiring professional packers and a crew to load the trailer while they drive the truck themselves, or customers doing the packing or loading and hiring help to drive the truck, or any combination of the above. With Oregon Trail Moving and U-Pack through ABF Freight, you can outsource any or all aspects of your move.
Hybrid moving is an increasingly popular moving option for several reasons. First, it is significantly more affordable than hiring full-service moving companies, as customers can save money by doing some of the work themselves. Second, hybrid moving allows customers to have more control over their move, as they can pack their items in a way that suits their preferences and schedule and makes the best use of the trailer or container space. Third, hybrid moving can be more flexible than working with full-service moving companies, as customers can choose which services they need and which ones they can do themselves.
Hybrid moving can be a great option for customers who are looking for a more affordable and flexible moving solution that still provides the convenience and reliability of professional moving companies. With the right moving company, customers can enjoy a stress-free move and a smooth transition to their new space.
Some moving companies specialize in hybrid moving, offering a range of services to fit the needs of their customers. Oregon Trail Moving offers packing, loading and unloading, and furniture moving. This includes moving extra large and heavy weight items that may be difficult (or impossible) to move on your own. We can and will do everything except drive the truck.
If you're confused about the relationship between ABF Freight and U-Pack, you're not alone. Here's a rundown on how these two different but related companies work together for those who need hybrid moving help.
ABF Freight System, Inc. and U-Pack are both companies that provide transportation and logistics in the United States. However, there is a specific relationship between the two companies that is worth noting. ABF Freight System, Inc. is a subsidiary of ArcBest Corporation, a publicly traded company that provides a range of transportation and logistics solutions, including less-than-truckload (LTL) shipping, supply chain optimization, and freight brokerage. U-Pack is a subsidiary of ABF Freight and operates as a separate brand within the ArcBest family of companies.
U-Pack specializes in "you pack, we drive" moving service, which means that customers pack their belongings into a moving trailer or container, and a U-Pack driver transports the trailer or container to the customer's new location. U-Pack also offers storage solutions and international shipping.
As a subsidiary of ABF Freight, U-Pack benefits from the parent company's extensive network of resources and infrastructure, including access to ABF Freight's fleet of trucks, terminals, and experienced drivers. However, U-Pack operates as a distinct brand and has its own team of customer service representatives, sales agents, and other employees.
Essentially, ABF Freight System, Inc. and U-Pack are related companies, with U-Pack operating as a subsidiary of ABF Freight. While U-Pack benefits from ABF Freight's resources, it operates as a separate brand within the ArcBest family of companies and offers a unique set of services focused on the moving and storage industry.
Oregon Trail Moving: The Very Best in Hybrid Moving
With our labor-only service, Oregon Trail Moving can pack your belongings, load, and unload your ABF Freight trailer and move furniture on-site. Providing you with all the assistance you need without compromising the rest of your plans is what we do best. You can save time and money with Oregon Trail Moving by selecting only the services you need. With a little help from us, you'll be able to complete the job on time and within your budget.
Packing at a Professional Level
In the course of moving, packing your moving boxes can take up a lot of time and effort. However, packing those boxes correctly can make all the difference between your items showing up intact or broken. In addition to moving, our expert movers are also experts at packing, so you will enjoy both extra time and peace of mind. We'll make the very best use of the space you have, both in the boxes and in your trailer or storage container. Let us help you pack just a few rooms or the entire house - it's up to you.
Loading and Unloading
Once you've packed - either by yourself or by hiring our movers - it's time to load up the trailer. Your ABF truck will be loaded fast and with precision. Our packing strategy maximizes storage space, which helps you move with fewer trips and helps keep your belongings from shifting around inside the trailer while on the road. When you're moving to and unloading in the local area, our movers can help you with the unloading process as well.
On-Site Furniture Moving
The most challenging part of moving is moving extra large furniture, hot tubs, pianos, gun safes, and other heavy items. As well as moving these items to a whole new location, our skilled movers can also provide on-site help. We will help you to move everything into the right place quickly and efficiently, whether you are moving completely, remodeling or staging your home, or simply moving these items into storage containers. As shown in our reviews, we take great care when moving furniture through storage or onto and off ABF trucks to complete your U-Pack move and make the most of the space you've got.
Your Moving Help is Here: Labor You Can Trust
There are a lot of companies out there to choose from if you need help with your U-Pack and ABF move. You may be considering other local companies to help on your moving day, but Oregon Trail Moving should stand out for a number of reasons.
How to Get Moving with Oregon Trail Moving
When you're ready for your ABF Movers help from Oregon Trail Moving, it's easy to get started. To schedule a move, simply fill out the convenient online form and a company representative will contact you with a quote and to confirm your move date. We can also discuss it with you over the phone if you want to talk about it more. No matter how we can help, whether it's loading or unloading your ABF trailer or helping you pack, we look forward to being a part of your moving day. As a seven-day-a-week moving company, Oregon Trail Moving gives you the flexibility your busy move needs.
Your ABF or U-Pack moving job can be accomplished faster and easier with the right help from Oregon Trail Moving. There is no local company that can compete with us on quality, pricing, and overall service. It's easy to see why Oregon Trail Moving services are the best, and our reviews back us up.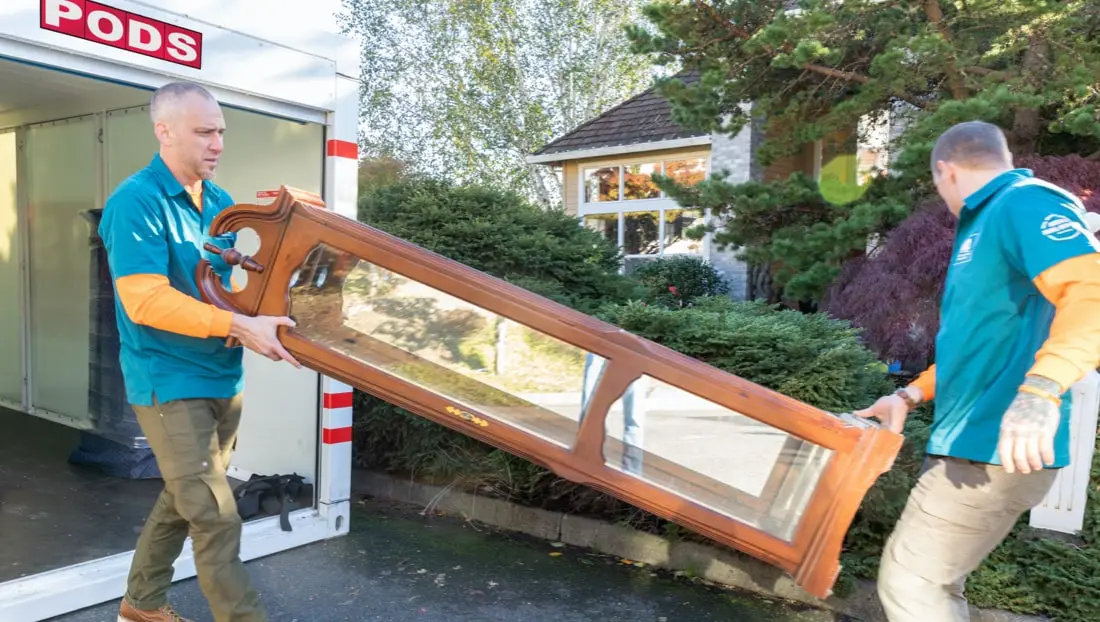 Let's Get You on Your Way
Those who know the value of hybrid moving can tell you that Oregon Trail Moving can provide you with the quality help you need. For your move beginning or ending in the Pacific Northwest, we have offices in Portland, Hillsboro, Oregon City, and Vancouver. Let's get your ABF trailer or storage container packed and on the road today! Give us a call or complete the online scheduling form to get a quote and get things rolling.